HIGH PLAINS WINGSHOOTERS BOOKING CALENDAR
HOW TO VIEW THE CALENDAR



In the Contol Panel area (left side of calendar page), the color-coded bars show you what type of booking the color represents.

In the calendar itself, the color bars show which dates are FULL, other dates that have LIMITED AVAILABILITY, and NOTES. Any date that is blank white means the date is available for lodging, hunting, or both.

Special notes for LODGING: the black LODGING bar on a date means the NIGHT of that day is booked. The secondary lodge has limited availability and is not listed on this calendar. Aaron can let you know if it is avaiable on the days you need it.



showing the control panel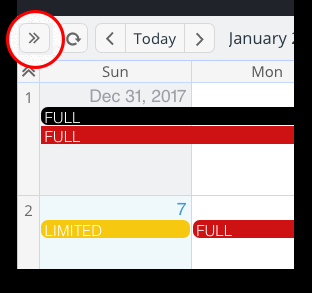 The Control Panel may be hidden when the calendar is viewed on a small screen. On the far top left, note the button (circled in red here). Pressing that button will reveal the Control Panel with the color bar index. You do NOT need the Control Panel to change the months on the calendar.



HIDING THE CONTROL PANEL



On small screens, sometimes the Control Panel (at left) overlaps the calendar. To reveal the calendar in full, click anywhere on the calendar.




The calendar is for your convenience. Aaron welcomes any phone calls to 1-307-575-1101. He will get back to you as soon as possible, as he may be in the field.